Identity of the McEwen School of Architecture (MSoA)
The philosophy of the McEwen School of Architecture (MSoA) is founded upon pride of place. This philosophy embraces the resiliency of northern people and the unique beauty of the northern Ontario landscape. Located at the crossroads of the City of Greater Sudbury in the downtown core, the MSoA opened in 2013 and marked Canada's first new architecture curriculum in over 45 years. The McEwen School of Architecture's award-winning building and campus provides an unfolding experiment in emerging pedagogies and diverse cultures. Our unique architecture program highlights design and culture for northern Ontario with an emphasis in developing expertise in wood construction technologies.
The study of Architecture generally raises our awareness of the holistic and aesthetic nature of the design of the built environment. Laurentian's Bachelor of Architectural Studies (BAS) undergraduate program focuses on four main areas: Design, Culture, Technology and Professional Practice. Architecture students take electives on the main Laurentian University campus, while Design Studio and other mandatory BAS courses are held at the McEwen School of Architecture's downtown site. Design Studio courses challenge students' creativity through the application of practical building solutions for northern climates, taking into account cultural sensitivities, diverse histories and community profiles. Our French, English, Métis, and Anishinabek faculty and student body is unique to Laurentian's tri-cultural mandate; conducting design studios in both French and English. As well, working with Elders-in-residence and Knowledge Carriers and guests who are First Nations and Métis, provides a further array of cultural and educational perspectives. Finally, the four architecture buildings that comprise our downtown facility complete an innovative complex that is both intentionally didactic and environmentally sustainable. The buildings are our first teaching tools and their design has influenced the formation of the School's curriculum.
Unique Features of the Program
Unique features of the BAS program include Design-Build and Community-Design projects that expose students to real community issues and hands-on building experience. Design-Build projects include the design and construction of ice-fishing huts, skating warming huts, canoes and paddles, traditional saunas, and other northern artifacts. At McEwen Architecture, students develop an appreciation for the integration of indigenous and natural materials in building and site design, as well as cultivate an understanding of the importance of collaboration and interaction with other students, faculty, and community groups. Central to the tenets of the Program, Elders-in-residence and Knowledge Carriers deliver lessons and guide students in First Nation and Métis principles.
Strongly rooted in a co-operative education model that integrates theory with practice, the first work-term in the BAS program takes place in industry and related fields, while the second work-term in the BAS program takes place in an office for architecture or a related design field. The Master of Architecture (MArch) program continues this philosophy with an eight-month long co-op term in design related offices both nationally and internationally.
The following video will give you a better sense of the unique features of our BAS and M.Arch programs, from Community-Design to Design-Build, to field trips, to thesis work, to the work with Indigenous communities, and much more, as it gives an overview of the academic year 2018-19, as seen through the eyes of our students – this was a landmark year for the MSoA as we had our very first master students graduate since the founding of the School in 2013.
Building and physical Resources
With our two phases of over 44.1 million dollars in construction and furnishing the renovated and new buildings on the downtown site, the McEwen School of architecture has excellent facilities that will support the long-term success of the Program. With 4 buildings surrounding a central (privately controlled) courtyard, the School provides over 65,000 sq.ft of studio space, classroom space, lecture hall space, a performance atrium, student exhibition/critique room, fabrication lab space (including a photo lab, wet lab, digital lab, wood shop), an architecture library, and finally a culture room that will be used for ceremony by indigenous groups from the wider community or the University. The atrium has a wood-burning fireplace as a back-up for sustainable practices and the spacious student lounge has a gas
fireplace.
The School's site also has extensive landscaping, with an outside ceremonial fire, a green roof over the CLT wing, a greenway/bioswale as a community park, and an outdoor enclosed design-build area adjacent to the fabrication labs allowing the School to embark on extensive future community projects.
The following video, launched in 2016 after the unveiling of the new building (second phase including the studio wing and the library wing), presents this unique School and its facilities, through the eyes of those who designed it, as well as the students who use it every day. It explains how the School was designed as a learning tool to teach design and architecture.
The following video, put together by Laurentian University Liaison Services during the 2020 summer, gives a virtual guided tour of the McEwen School of Architecture, presenting its different facilities and resources. It introduces the four buildings, including the 2016 wings showcasing innovative wood technologies such as CLT, as well as the 2013-2016 wings in existing buildings that were brought back to life through adaptive reuse. To visit our School and see it with your own eyes, please contact us to book a tour.
Laurentian University: A Brief History
Laurentian University (LU) was incorporated on March 28, 1960. Laurentian is officially a bi-lingual and tri-cultural university, located on the traditional territory of the Anishinaabe peoples of Atikameksheng (Whitefish) First Nation. The city and region of Sudbury, Ontario offers unique cultural, recreational, and educational opportunities. Historically a world leader in nickel mining, Sudbury is now the major retail, economic, health and educational centre for Northeastern Ontario. The city and the campus are situated on the Canadian Shield where major industries include timber and mining. Sudbury lies in the Robinson-Huron Treaty territory.
Laurentian's campus is a beautiful 765-acre site on the edge of Lake Ramsey. Students and faculty enjoy an incomparable natural environment, surrounded by five of Sudbury's 330 freshwater lakes, a mixed boreal forest and breathtaking nature trails. All this in the heart of the city, 10 minutes from the city's downtown core. The University is nearing the completion of a $51 million dollar transformation that is updating its infrastructure and teaching facilities, including 25,000 sq. ft. of construction devoted to classrooms, teaching labs, new student gathering spaces, a vibrant Welcome Centre and a new Indigenous Sharing and Learning Centre.
Celebrating its 50th anniversary in 2010, Laurentian University has become one of the fastest growing universities in Canada, its enrolment having gone from 6,000 to almost 10,000 in the past decade (6,510 full-time + 3,000 part-time students). Laurentian has the best post-graduation employment rate in Ontario: 95% of LU graduates find jobs within six months of graduating, and 97% are gainfully employed following completion of their studies.
The University also has an impressive research track record, having secured more than $250 million in research income in the past decade. Since 2005, Laurentian has opened new schools of Medicine and Architecture, in each case a first in over 40 years. In 2015, Laurentian was one of five university collaborators in prizewinning neutrino research led by Dr. Arthur McDonald at Sudbury's SNOLAB, which received the 2015 Nobel Prize in Physics.
The McEwen School of Architecture was built in the heart of downtown Sudbury, intentionally placed there as a catalyst for urban revitalization, adding another layer of meaning to the project of the School of Architecture. This revitalization will add over 450 students, faculty, and staff to the downtown core. Ironically, the School's conference room looks across the road to The Grand Theatre where the Laurentian University of Sudbury/Université Laurentienne de Sudbury began before building the current campus in the 1960s.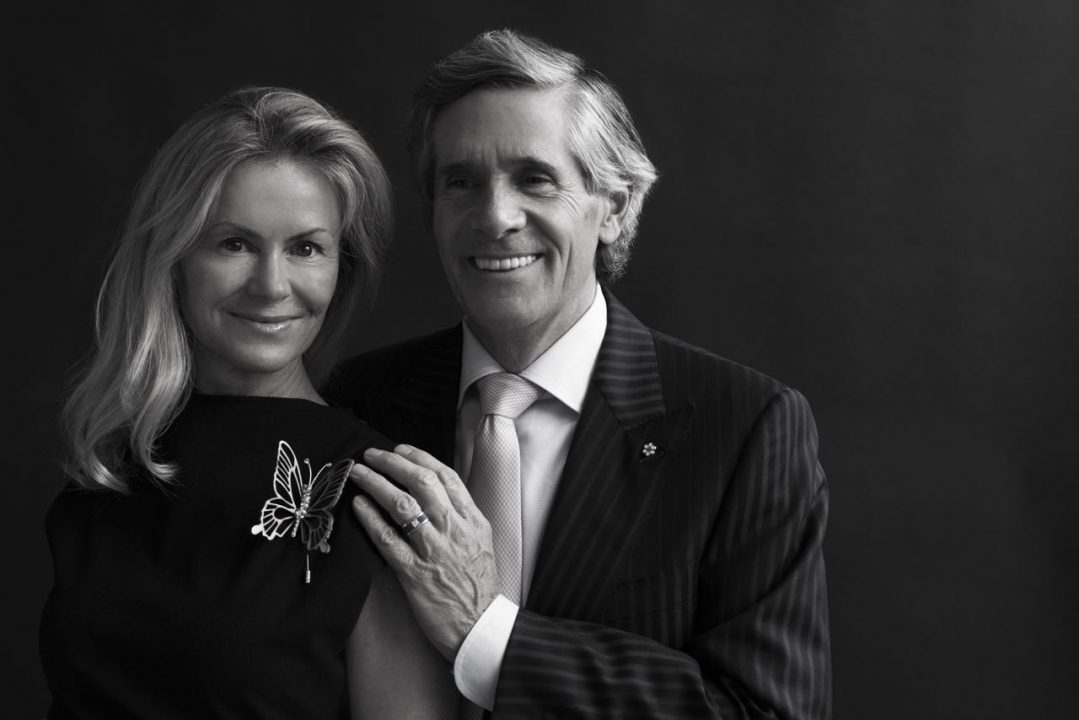 Rob and Cheryl McEwen
Rob McEwen has spent his career in two industries — investments and mining. First he spent 18 years in the financial services industry in research, sales, and portfolio management primarily focused on investments in gold. Since 1990 he has been actively involved in the gold mining industry, recently adding silver and copper to his area of focus. He is the founder of Goldcorp Inc., where he took the company from a market capitalization of $50 million to over $8 billion.
During the last 13 years as CEO of Goldcorp, its shares grew at an annual compound rate of 31%. Mr. McEwen is currently Chairman and Chief Owner of McEwen Mining Inc. which has two producing mines, a 100% owned gold mine in Mexico and 49% interest in a gold and silver mine in Argentina. In addition, it has two development projects, a silver mine in Mexico and a gold mine in Nevada, USA. It also owns a very large underdeveloped copper deposit in Argentina. Rob owns 25% of McEwen Mining, his cost base is $127 million, his salary is $1/yr and he takes no bonus or options. The goal of the company is to be in the S&P500 Index.
In 2000, Business Week named Goldcorp one of 50 most innovative companies on the web worldwide. Most notable of Rob's awards include Ernst & Young's Ontario Entrepreneur of the Year Award (Energy), Northern Miners' Mining Man of the Year and the Outstanding Achievement Award for Philanthropy from the Canada Museum Association. He has been honored with an Honorary Doctor of Law Degree from York University, was named Canada's Most Innovative CEO in 2006 by Canadian Business Magazine, and received the Order of Canada (Canada's highest civilian award).
In January 2017, he was inducted into the Canadian Mining Hall of Fame. In 2000, he launched the Goldcorp Challenge, one of the world's first successful incentized crowd sourced competitions. His company offered $500,000 in prize money and asked the world to target where they would find 6 million ounces of gold in a mine that had already been in production for 50 years. Goldcorp spent $1 million between set up and prize money and found $3 billion dollars of gold.
Rob and his wife, Cheryl, are strong supporters of education, in particular leadership development and of health care. They established the McEwen Centre for Regenerative Medicine in 2006 at University Health Network in Toronto (Canada's largest research hospital complex). Today it is recognized globally as one of the top research labs in its field. Over the past 10 years, their charitable donations have exceeded $60 million.
Cheryl McEwen is a volunteer, philanthropist and entrepreneur. Together with her husband Rob, Cheryl is making a tremendous impact on Canadian healthcare, education and the retail industry. They have donated over $60 million to encourage excellence and innovation in major projects including:
McEwen Centre for Regenerative Medicine and Stem Cell Research (founded in 2003 with a team of 60 researchers & growing to 130 stem cell researchers over the next 6 years)
McEwen Award for Innovation in Stem Cell Research ($100,000 prize and the first recipient in 2011, Dr. Shinya Yamanaka went on the receive the Nobel Prize for Medicine)
The McEwen School of Architecture at Laurentian University in Sudbury (Canada's 1st new School of Architecture in over 40 years)
The Rob & Cheryl McEwen Graduate Study & Research Building at Schulich School of Business, York University
The McEwen Leadership Program at St Andrew's & Lakefield College Schools
The McEwen Gallery at the Art Gallery of Ontario (AGO)
Involvement in special organizations including, Virgin Galactic, X-Prize Foundation, International Society of Stem Cell Research Conference (ISSCR), the Duke of Edinburgh Awards and the Prince's Charities.
Cheryl is the Vice-Chair of the Toronto General & Western Hospital Foundation Board. Serving on the board since 2005.
Today Cheryl is President of Make My Day Foods Inc., creators of the Veggie Puck, a raw, organic mix of five super vegetables, mulched and compressed and frozen into puck-shaped portions. Cheryl is a firm believer in the ability of nutrition to prevent disease and support overall mental and physical well-being.
Cheryl began her career with over 20 years in the fashion industry. In 1992 Cheryl opened Andrew's, a department store for women in Toronto. Over 10,000 square feet, this specialized department store had everything from cosmetics to lingerie to evening wear to sportswear to outerwear. One stop shopping for women! The store continues today to be a very successful business.
As Co-Chair of the Grand Cru Culinary Wine Festival in Toronto, Cheryl has helped raise over $26 million to support medical research and patient care. In addition, Cheryl was a significant advocate to bring the David Bowie exhibit to the AGO. That exhibit brought the AGO to new audiences and broke attendance records.
Cheryl continues to pursue personal education having completed, Level One Sommelier, Level 2 Snowboard Instructor Certification.
MSoA's International Advisory Board
In order to assist the McEwen School of Architecture in its ambitions, 16 visionary leaders are appointed to constitute the MSoA's International Advisory Board. The board members meet twice a year in order to share high-level strategic advice relating to the long-term goals and success of the School, as well as to foster closer ties between the School, the architectural industry and international partners. In order to discuss design, environment, accessibility, and global narratives regarding cold climate places, the board constitutes a wide range of creative individuals who have made significant contributions to making the world a more creative and inclusive place. The board members are:
Terrance Galvin (Chair) – Founding Director of the MSoA, Professor (Laurentian University)
Zita Cobb – Co-Founder and CEO of Shorefast, and Innkeeper of the Fogo Island Inn
Juliette Denis – Métis Elder
Dee Dee Eustace – Founder, Taylor Hannah Architect Inc.
Tammy Gaber – Director of the MSoA, Associate Professor (Laurentian University)
Joy Gray-Munro – Dean of the Faculty of Science, Engineering and Architecture (Laurentian University)
Rick Hansen – Founder of Rick Hansen Foundation
David Lickley – Director Lickley Productions Inc.
Bruce Mau – Designer, Author, Innovator; CEO and Co-founder of Massive Change Network
Rob McEwen – Chairman and Chief Owner, McEwen Mining Inc.
Cheryl McEwen – Vice-Chair of the Toronto General & Western Hospital Foundation
Jason McLennan – Designer, Author, Speaker, Consultant, and Environmentalist
Tracy Mcleod – Chief Advancement Officer (Laurentian University)
Marianne McKenna – Partner, KPMB Architects
Blaine Nicholls – Retired architect
Lisa Rochon – Architectural Critic and Design Strategist
Alfred Waugh – Principal, FORMLINE Architecture and Urbanism